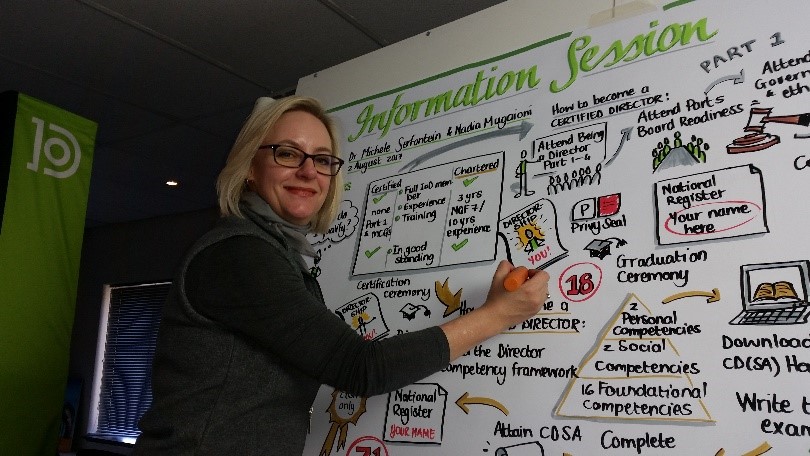 Lita Currie
Lita Currie is a business owner, graphic facilitator and business coach.   She has over 25 years' experience in the development of talent and has worked with clients from a variety of disciplines (Fast-moving Consumer Goods, Financial Services, Information Technology, and Mining).
Lita is a member of the International Forum of Visual Practitioners.  She has worked for a variety of clients as a graphic facilitator and graphic recorder and is in high demand at conferences.  Because of her business experience, she is able to capture the essence of conversations and presentations in a combination of graphics and words, and the resulting graphic becomes a powerful visual artefact after the meeting.
"People take pictures of the graphic (including selfies!) and share it with their network," Lita explains.  "In that way it stimulates discussion of the content and ensures that the messages are shared more widely.  Because the content has been captured live where the audience can see it taking shape, they also remember it a lot longer."
Clients use her graphic expertise during sales pitches, external and internal conferences, training sessions, problem-solving sessions, and gatherings like book launches.
Lita teaches visual thinking for corporate clients through Gordon's Institute of Business Science and Henley Business School.  She runs various public training courses in visual thinking in South Africa.
Lita holds a BA (cum laude) from the University of the Free State, an Honours degree (cum laude) in Adult Education from the University of the Witwatersrand and a qualification in Professional Business Coaching from GIBS.  She has a certificate in Systemic Team Coaching from the Henley Business School.